Results of a Life Cycle Assessment performed by DuPont and verified by an independent third party provide important insights for the packaging industry.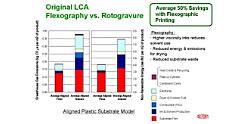 Comparing Flexo to Gravure
The first step in the Life Cycle Assessment was to compare the carbon footprint of flexo to gravure based on comparable substrate and printed area.

Flexo had a 50% savings in greenhouse gas generation and non-renewable energy consumption.